Library Manager 2.0
is a nice, easy to use application for Microsoft Windows 95 / 98 / NT 4.0 or higher to help people & organisations to manage their libraries. It is also not as expensive as most such software. Using this program you can create a catalogue of such things as books, magazines, CD-ROMs, etc. You can perform searches on this catalogue or filter them to get a list of items which match all the criteria you specify. This makes it really easy to find exactly what you need. You can also print out reports on your searches by one single click of a mouse button.
On this site you can download a FREE working demo version.
The program has got a Windows 98 - style interface. Navigate through the database just like you browse the web!
This is how it looks:
See the list at a glance:
See the form for each item:
There are also many other options not metioned here. You can see them in a free full DEMO version. Please try it.
Note: this is not a slide show, this is a complete application!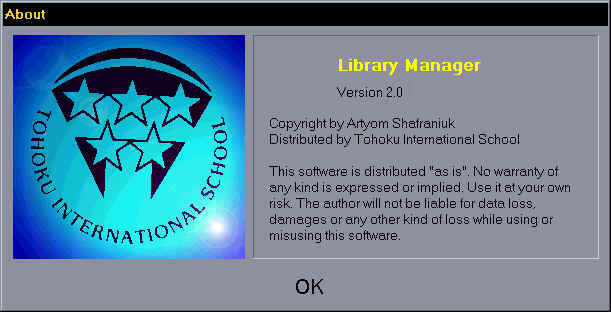 Distributed by Tohoku International School